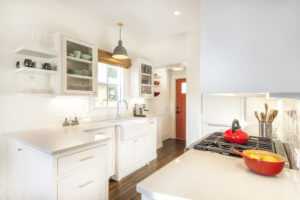 Nautilus Homes has won a Silver Award for its Sarasota Burns Court remodel project from SRQ Magazine's 2017 Home of the Year Competition.  Nautilus Homes was recognized by the magazine as being one of the Sarasota Florida top home builders who "pulled out all the stops" in their work on the homes winning this year's competition.
"This historic renovation at 422 Burns Court was a unique opportunity to work with our client in reviving an historic home in an iconic downtown Sarasota neighborhood and bring it back to its former glory," said Nautilus Homes president Ryan Perrone. "The size of the home – only 1,000 square feet — presented some unique design challenges. We were honored to partner with Ellen Hanson of Pansy Bayou; Elite Woodwork; and Paramount Stone to find innovative solutions to preserve the historic importance and most efficiently utilize the space of this exciting home renovation project."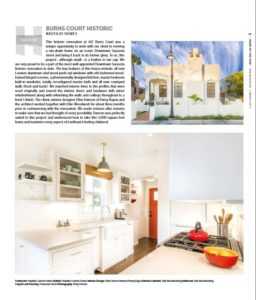 The key features of this house include: all new Loewen aluminum-clad wood push-out windows with old-fashioned wood-framed hinged screens, a phenomenally designed kitchen, master bedroom built-in wardrobe, totally reconfigured master bath and all new courtyard walls (front and back). Interior trims were matched to the profiles that were used originally and reused the interior doors and hardware with minor refurbishment along with refinishing the walls and ceilings throughout to a level-5 finish.
Click here to view more images of this Sarasota home remodel project in the historic Burns Court neighborhood.
https://nautilus-homes.com/wp-content/uploads/2016/04/DSC_8524-copy.jpg
1421
2048
Nautilus News Team
https://nautilus-homes.com/wp-content/uploads/2016/04/logo-pad.png
Nautilus News Team
2017-03-09 11:29:25
2017-03-09 11:41:42
Nautilus Wins Sarasota Burns Court Remodel Home of the Year Award