10 years ago, Nautilus Homes was born. With a vision of the caliber of homes we desired to bring to life, we embarked on an unbelievable journey, and have never looked back. We are humbled to be able to serve our community and make Sarasota more beautiful for the past 10 years.

In 2010, we decided there should be a mindful option to the Sarasota luxury home landscape. In that time period, many people were looking to downsize their footprint without sacrificing on quality. Nautilus Homes was originally born with these clients in mind – those looking for a Jewel Box home. You embraced our more conscious, minimalist footprint approach with open arms and we are forever grateful.
From our first days in in 2011 downtown with one employee to having a dream team breaking ground on incredible projects in 2019, we have never strayed from our vision – to build at the pinnacle of refinement regardless of size.
Here are a few of our lessons learned in 10 years of serving Sarasota:
1. Stay inspired.
Knowledgeable builders can execute a variety of architectural styles. From Antebellum to Bauhaus, we are grateful to be trusted with styles across the board. We have worked over the years to test ourselves in all styles to be available to achieve exactly what you're wanting regardless of the design nuances. Being married to one approach keeps you stuck. Show us your dream, and we will bring it to life.

2. What goes around comes around.
We believe in positive symbiotic relationships. We do our best to add authentic value to our relationships with architects,  designers, subcontractors, and realtors organically. When it is the right time to share business, we trust that will come naturally without spending your dollars on paying a referral fee. Every professional's goal should be to create a satisfied client, and what better way to do that than to recommend other top quality professionals? We are grateful to have quality relationships with some of the best in the area, and are happy to introduce you to a custom designed team perfectly suited to your needs.
3. Push your industry standards to higher levels.
when we accept the status quo is when we stop growing and learning. There are a few ways we love to push our industry standards higher.
We make it a priority to reduce our carbon footprint both in the office and on the job sites. In the office, we have made it a focus to used cloud based software to share documents, photos, plans with our clients and partners to reduce our environmental footprint. Our accounting and billing is all done virtually as well. We are primarily paperless in the office. On job sites, we use recycled wood, we recycle concrete after demolition, only destroy when needed, and always try to maintain historical integrity. These are just a few physical examples
In the next ten years, our plan to reduce our carbon footprint includes migrating to an electric vehicle fleet, switching our building's AC to high efficiency, and switching to solar energy.
We invest in quality, not quantity- from the materials in our homes down to the people we choose to work with. It's a great honor to work with some of the most exceptional professionals in our industry, and we take the opportunity to work with the best architects, interior designers, and subcontractors seriously. We believe in good architecture, design, and craftsmanship and work hard to ensure we are supporting our partners so they can do what they do best. To do our part to help the design community thrive, we love to support organizations like the AIA, ASID, Sarasota Architectural Foundation, Manatee-Sarasota BIA, and the Center for Architecture with our time and energy. Spend your most valuable resources on what you believe in.
4. Do it right, do it once.
From choosing the right builder, assembling a team (architect, designer, etc), and choosing your dream home site, don't settle for less. Ensure you choose a team with unwavering standards. Although it takes time and strategy to develop efficient processes, documentation, and teams, we have found there is no substitute for going above and beyond in effort to produce a premium product and experience. We do have high expectations of all parties we work with, but also aim to make the process as enjoyable as we can. We have learned over the years different ways to make our expectations on behalf of our clients understood up front by all parties to ensure a smooth and pleasant project for all.
5. There is nothing we would rather be doing.
We love what we do. If there is anything that 10 years of triumphs and hurdles in business will teach you, it's if your heart is really in it. We can say with certainty there is no other way we would spend our days than with our team, partners, and clients creating inspired spaces in the world.
Take a trip down memory lane with us as we celebrate the first ten years of Nautilus!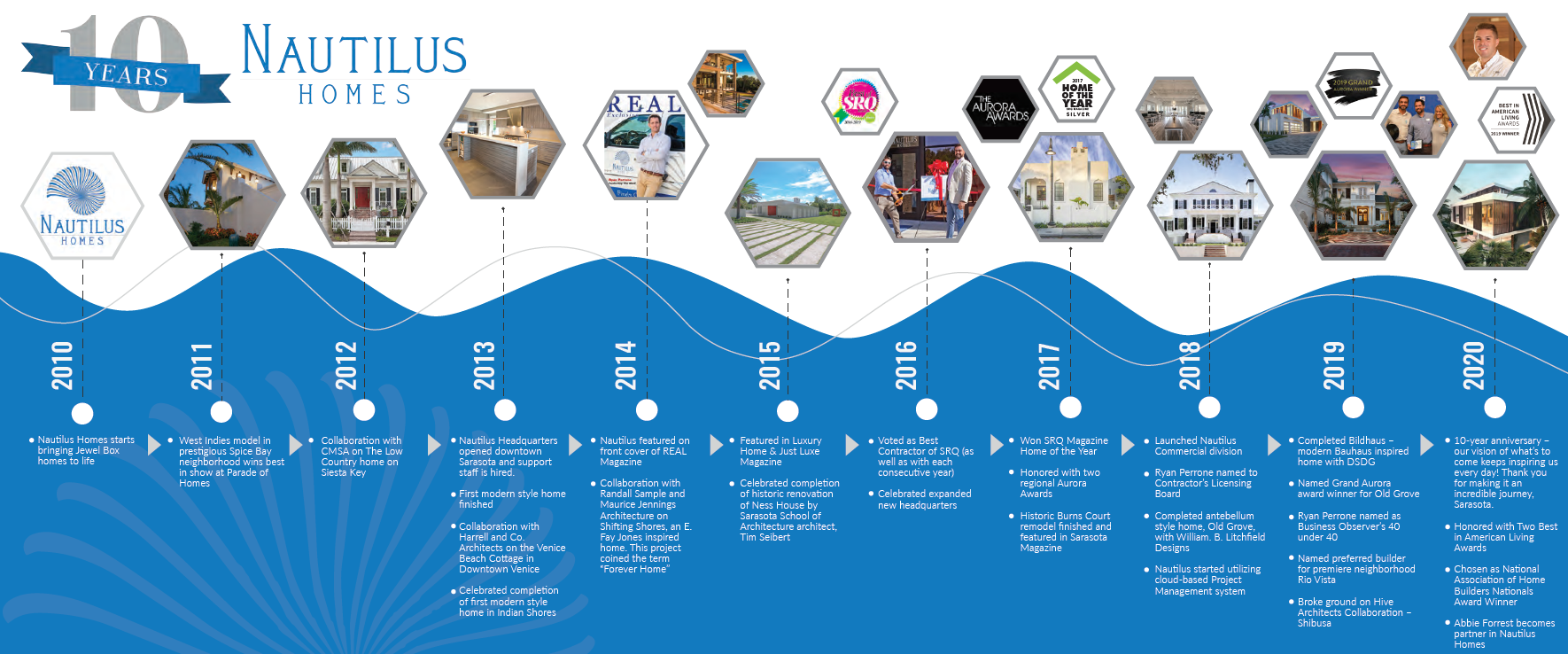 To all of you who have helped make every day a great day since day one, THANK YOU.
Thank you to our amazing clients for your continued support and trust in us. Thank you to our partners for holding the same high standards and being a pleasure to do business with.
We look forward to the next 10 years of creating in Sarasota.