Key, Sarasota, Florida | 2020 | 3,700 sqft
The distinctive serenity of the Courtyard House, a classic Sarasota School of Architecture, Jack West home, designed for a waterfront subdivision on Bird Key, is a generous escape from the busyness of everyday life.
West's original design was all about the slow reveal. With this idea in mind, a private enclosed courtyard captivated this intrigue at the front entry. After its original build as a spec home in 1965, the courtyard was demolished, but in this renovation, the homeowner wanted to pay homage to the original design intent.
Shibusa is a Japanese word and concept that refers to a particular aesthetic of simple, subtle, and unobtrusive beauty
2021 SRQ Magazine Home of the Year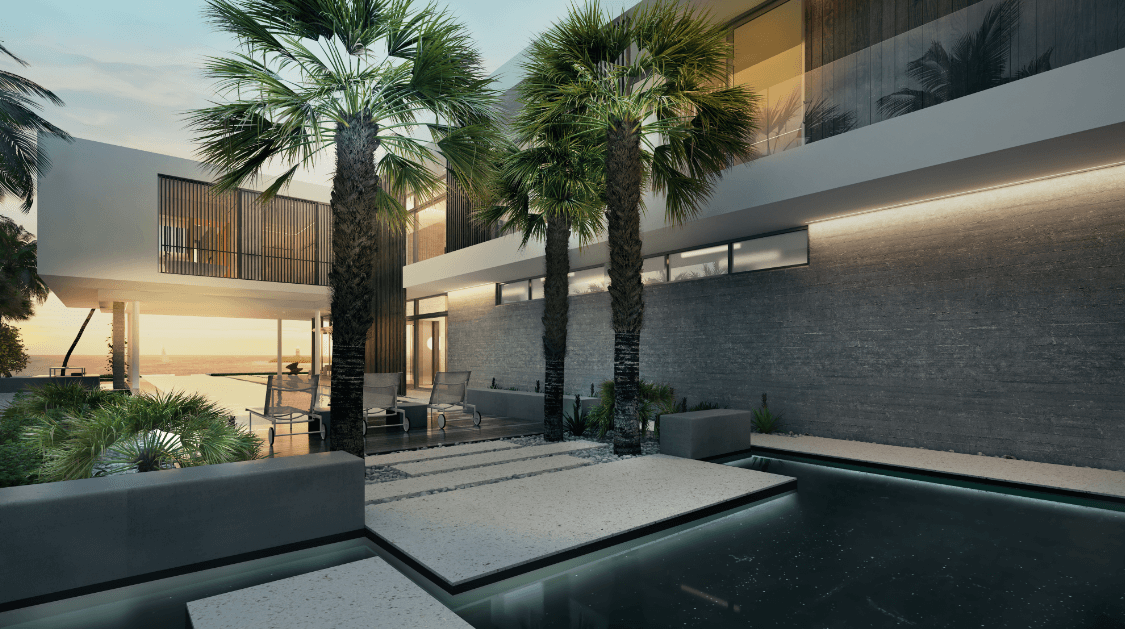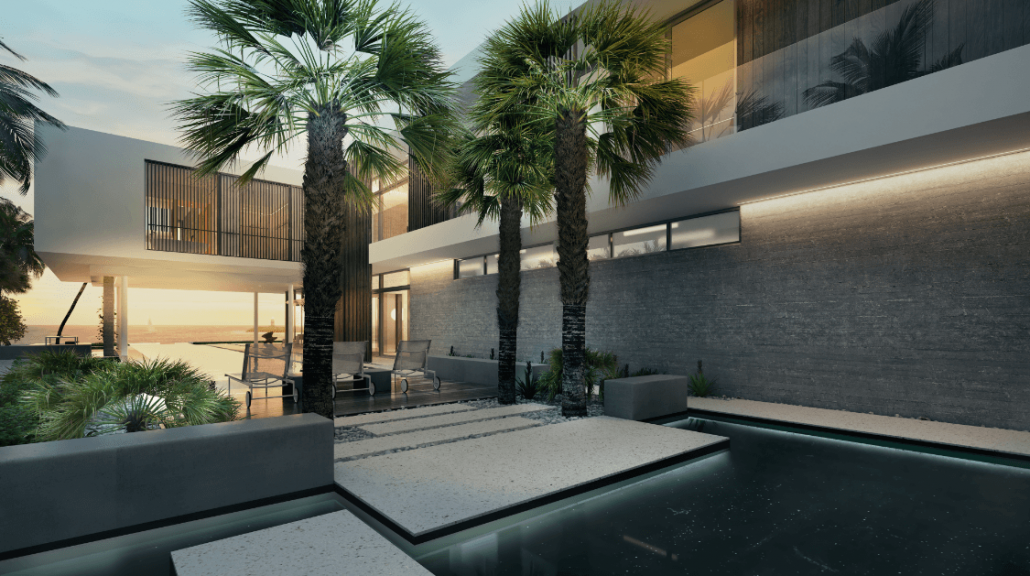 In 2019, Echt Architects redesigned the additional architectural façade elements to honor that same unhurried divulgence.

This original objective was reborn by creating a unique and intimate zen experience at the front entry. Earthy vertical wooden battens give a gradual introduction to a calming water feature with steppingstones and a singular perfectly placed topiary that gives rise to a feeling of tranquility before entering the home.

The air of serenity and quiet interest continues in the back of the house. The home never had a pool originally, yet it's married so naturally with the space, it doesn't seem it could have ever gone without. The crisp white pavers against the Caribbean blue pool are reminiscent of the sands of Siesta Key beach against the lapping waves of the gulf. The built-in fire pit flush with the earth brings an element of heat and grounding, which is balanced with the fluid, cool liquid movement of the pool.
An outdoor dining area with swaying palms situated to provide shade where needed, a waterfront bar, and a cozy sunken wood burning fire pit area that leads down to the dock make for leisurely outdoor guest entertainment.

The Sarasota School of Architecture keeps Florida's subtropical climate and easy indoor/outdoor lifestyle at the forefront. With these mindful upgrades to the iconic Courtyard House, we were able to preserve this historic intent and craftsmanship while maintaining a modern and serene experience at the home.
You deserve extraordinary.
The first step is sharing your vision of your "personal oasis" with us,
so we can bring it to life. Contact us by filling out the information below.