Designed for Better Results
As the premier luxury custom home builder on Florida's Gulf Coast, we believe that we must differentiate ourselves to be a true market leader and create value for our clients.
So, what makes Nautilus Homes different from other custom home builders or design build firms?
We have a passion for perfection and for exceeding your expectations. When you work with Nautilus Homes, you have full access to a dedicated team of experts who help you make the thousands of decisions that are important to you. Our mission is for you to enjoy your home building experience as much as you enjoy the final product.
We work with the top architects in Sarasota and the surrounding areas to ensure your vision takes shape exactly as you envisioned it. The earlier we are able to get involved with your project, the smoother the process will be. When an architect and a custom home builder like Nautilus Homes team up early, we can sit at the same table and develop the vision and design for your dream home together, while keeping your budget in mind and working towards the same goals.
A Dedicated Team Approach to Design Build Sarasota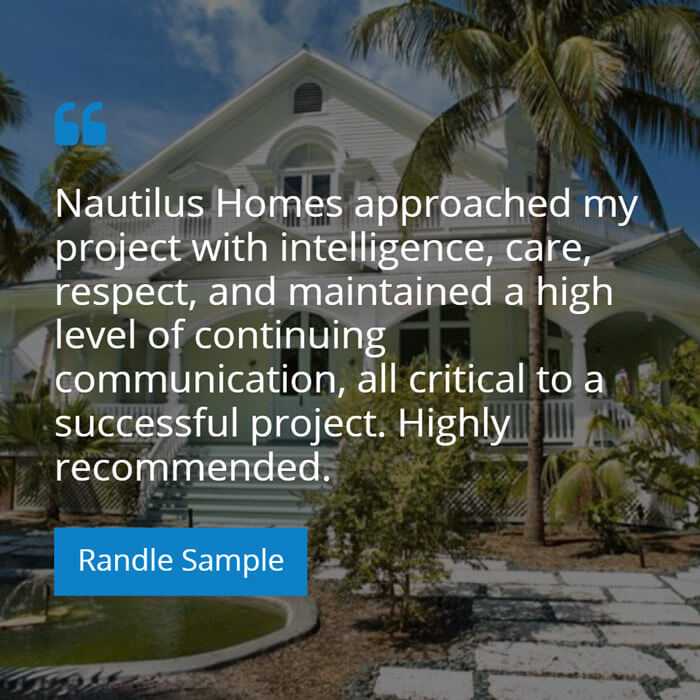 One of the aspects we enjoy most about what we do is the ability to build a team around each project. We know that the most successful new homes or remodels are the result of a complete collaborative effort between trusted partners. That's why we only work with the top local professionals in the industry who have the experience and expertise necessary to add value to all of our projects and a best-in-class experience for our clientele. Knowing the style, character and rates of each of these firms allows us to make the right recommendation to get our clients started on the right foot.
The designers, architects, and landscape design firms we have had the pleasure of working with include:
If You Are Already Working With an Architect

If you are already working with an architect, we will bring those same fresh ideas, efficient construction techniques, architectural savvy and understanding of costs to the table during the design development.
We value the opportunity to work with like-minded homeowners and professionals dedicated to designing and building beautiful homes and delightful client relationships. Contact us to better understand what makes us the right choice for a relationship that lasts a lifetime.
"Nautilus Homes is an excellent resource for our architectural firm. We provide design services for high end waterfront residences and Ryan Perrone at Nautilus is a custom residential construction firm that we can rely on to provide our clients with craftsmanship, accountability and well-communicated contracting." ~ Cliff Scholz, Clifford M. Scholz Architects, Sarasota, FL