Nautilus in the News
Nautilus Homes Named to Exclusive Preferred Builder Team
Nautilus Homes is honored to have been chosen among the exclusive, preferred builders to construct homes in Rio Vista Estates, the third and final phase of the award-winning The Islands on the Manatee River community.
The Best of The Best
The Islands on the Manatee River is renowned for its homes of architectural excellence. In the last four years, the community has garnered award-winning accolades for its model homes from Parade of Homes, as presented by the Manatee-Sarasota Building Industry. In being named among the exclusive builder team for Rio Vista Estates, Nautilus Homes has been recognized as a local, experienced and talented custom home builder that understand and share the vision of The Islands as a community of elegance, style and exceptional quality.
What to Expect
With 65 estate-sized waterfront homesites, Rio Vista Estates boasts picturesque harbors and navigable access to the Manatee River and onward to the Gulf of Mexico. Adding to the appeal of Rio Vista Estates is the architectural flair of the Caribbean. Each of the preferred builders will offer custom-suited homes in varying shades of white, with metal and barrel tile roofs, tropical landscaping and distinguishing architectural details. All homes will carry a Spanish Colonial and traditional or modern West Indies design.
In Ryan's Words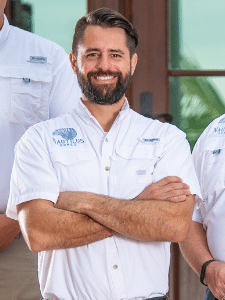 "We are thrilled to be among the sought-after homebuilders trusted to ensure the most innovative, distinguished neighborhood of The Islands on the Manatee River comes to life with the vision, refined style and quality of its developers," said Ryan Perrone, owner of Nautilus Homes. "We take pride in our craftsmanship and attention to detail, and look forward to working with homeowners to make the construction process both seamless and enjoyable."
https://nautilus-homes.com/wp-content/uploads/2019/03/Rio-Vista-Estates-1.jpg
309
992
Ryan Perrone
https://nautilus-homes.com/wp-content/uploads/2016/04/logo-pad.png
Ryan Perrone
2019-03-04 14:34:43
2019-07-15 08:56:14
Nautilus Homes Named to Exclusive Preferred Builder Team